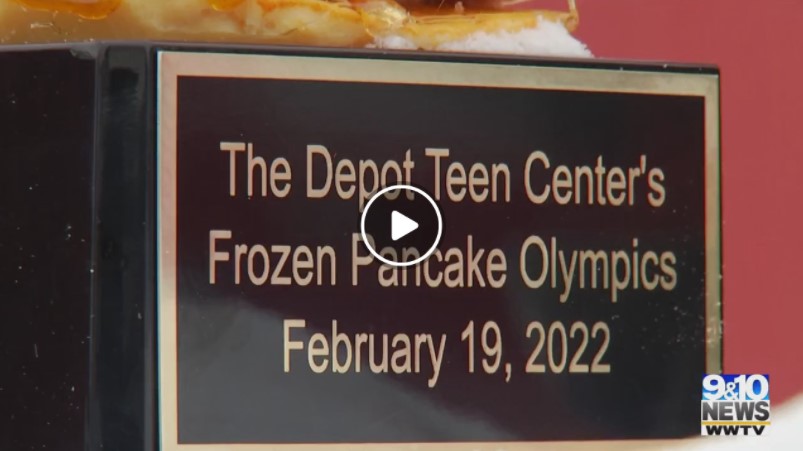 By Lauren Creighton & Tyler Brintnell
TV 9&10 News
East Jordan – Freezing outside becomes a little more fun when you add pancakes to the mix.
But these aren't the kind of pancakes you want to eat, they were used in a series of games at East Jordan Sno-Blast, something The Depot Jordan Valley Teen Center calls their inaugural Frozen Pancake Olympics.
"The snowmobilers club used to do a pancake toss, just a frozen pancake toss, and they asked us this year if we would be interested in doing that as a fundraiser," said Depot Program Director Scott Gillespie.
And that was an idea he just ran with.
"I mean we got the Olympics going on right now, it just made sense to have a Frozen Pancake Olympics," said Gillespie.
Instead of snowboarding, skiing, and bobsledding, teams competed in a pancake toss, plinko, and cornhole.
Reuben Carpenter was one of the youngest Pancake Olympians. It was hard for him to pick his favorite game.
"Probably the one where you flip the pancake over your head," said Carpenter. "I think I got five points at the cornhole, it's actually pretty fun."
Teens and younger kids enjoyed the fresh air, all while collecting donations for the faith-based, non-profit organization.
"It was a lot of fun watching the kids throw the pancakes and the wind, they never knew where it was going to go and the laughing, the cheering, it was all a great experience for them," said Depot Board Member Matt Hamilton.
They're hoping this will become a regular event at Sno-Blast.
"We're hoping to do this every year and from the results of today, I think we're on to a good start," said Hamilton.